Elwha nearshore research and education. CWI coordinates the Elwha Nearshore Consortium, a group of scientists, managers, and citizens dedicated to understanding and promoting the nearshore restoration associated with the upcoming dam removals.
The Consortium has identified a set of high priority needs to address prior to and during dam removal. Since nearshore restoration will only be partially restored the group has determined additional information is needed to understand what further actions are needed to achieve ecosystem restoration in the nearshore.
Priorities include developing and implementing a nearshore restoration action plan, documenting long term fish use of the Elwha nearshore, defining the role feeder bluffs play in sediment dynamics of the Elwha nearshore, and understanding linkages between hydrodynamics and ecological function of the Elwha estuary and shorelines.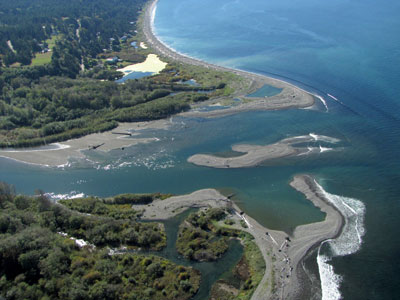 Elwha nearshore 2010 (before dam removals began)
Photo by John Gussman
'Living on the Edge'. A campaign to protect and restore feeder bluffs-the engines of our critical northwest nearshore ecosystems.
Protecting and restoring the nearshore of the central and western Olympic Peninsula. CWI provides leadership, scientific technical expertise, and coordination on  priorities for nearshore restoration, including Dungenesss Bluffs, Elwha, Crescent Bay and Salt Creek, Twins, and Clallam Bay nearshore.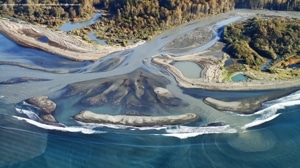 2013 (2/3 way thru dam removal project)
Photo by Tom Roorda
Defining and promoting nearshore ecosystem services. CWI leads efforts to promote understanding local, regional, and cross regional importance of nearshore habitat function of the north coastal Olympic Peninsula. A high priority is working with collaborators to define-for the first time- the ecosystem services provided by nearshore habitats. Priority areas are ecosystem function of kelp beds for forage fish, the role of coastal beavers in promoting the restoration of estuaries and lower rivers, and conserving feeder bluffs function of the Salish Sea.
Educating our next generation of co-managers and reseachers. We have a new generation of scientists and co-managers recruiting to the natural and physical sciences. It is important to provide meaningful research and educational experience to impart and maintain the understanding of our watersheds that we have worked so hard to achieve, and continue towards our goal of locally based wise long term stewardship with a minimum of 'shifting baseline' that erodes our natural resources.
Resources to address these priorities are very tight. CWI is dedicated to supporting efforts to address these priorities in times of diminishing financial resources and increasing human pressure.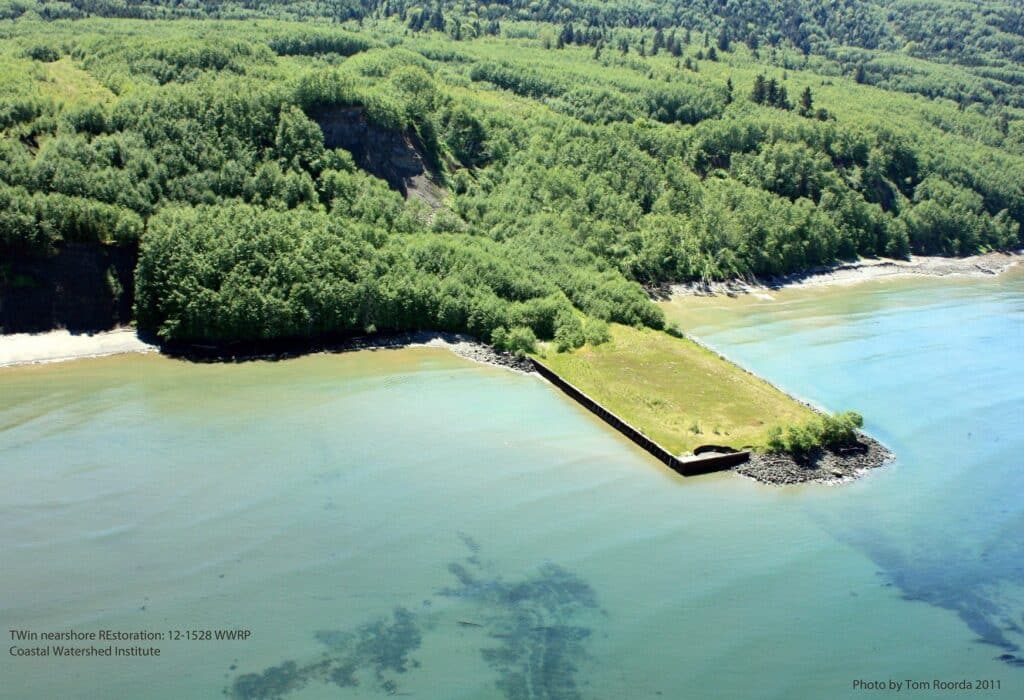 Twin nearshore (Photo by Tom Roorda)
Feeder bluffs feeding beach building and
surf smelt spawn material along Dungeness drift cell